This is what connection sounds like.
In a world where direct human contact has fallen to the side, The Listening Project aims to listen to people with complete and undivided attention.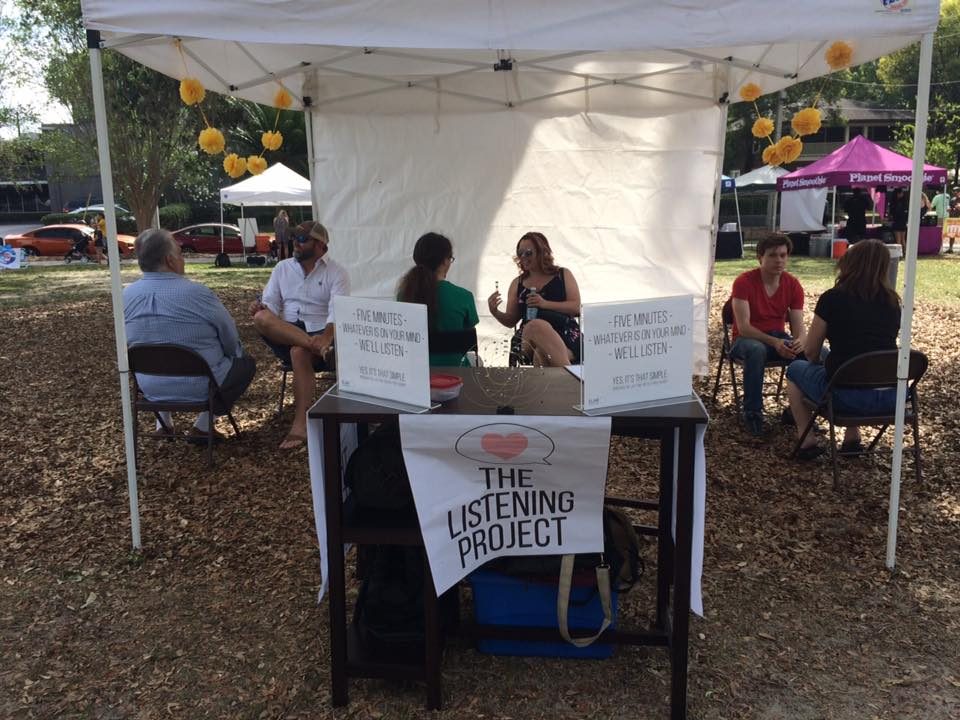 The Concept
Two chairs. Five minutes. As society continues to speed up around us and our interactions become increasingly digitized, we spend less and less time focused on one another in person. When was the last time someone gave you their complete and undivided attention or listened to you completely without saying anything? And on the flip side when was the last time you offered this to another?  
Our Next Event Will Be As Part Of Art In Odd Places Orlando
November 10th - 12th, 2017
Location:
225 S Orange Ave
Orlando, FL 32801
Fri, Nov 10 - 
11am to 8pm
Sat, Nov 11 -
12pm to 8pm
Sun, Nov 12 - 
12pm to 4pm
So Far
We have held this event three times with 20 official listeners and over 150 participants.
The Listeners
Volunteers from our community receive training around listening and together, we explore the practice, skill and gift of listening. We discover the joy of creating a space of presence, acceptance and love. The next listener training will be on Thurs, Nov 9th - 7pm to 9pm.
Who
Elar team member, Logan Anderson is the lead organizer for this event. He is an amazing poet, performer and arts advocate who contributes greatly to our mission.
About AiOP Orlando 2017: NOISE
Curated by Julian Chambliss and Rachel Simmons, Art in Odd Places Orlando 2017/NOISE is an annual public art and performance festival, taking place from November 10-12, 2017​, along Orange Avenue, from Wall Street to South Street. We welcome disciplinary diversity: visual/ installation, performance, time-based media, virtual/gaming work, online-IRL hybrids, and others. Projects will explore this location's history, and actively engage the public realm.
Here's what participants are saying: